Comfortable Charter Buses
Charter Bus Indianapolis
Welcome to Indianapolis Party Bus! We're happy to provide you with the most comfortable (and affordable) Indianapolis charter buses, shuttle buses, and mini buses! These aren't your average school bus rentals - they're spacious, comfortable, incredible charter bus rentals! When you book a charter bus rental in Indianapolis from us, you're getting a comfortable, clean, and affordable mode of seamless transportation. With the high-back plush leather seating and passenger climate controls, and the professional driver behind the wheel, you can relax and enjoy the ride, even if you're traveling to the other end of the Indiana state. Our Indianapolis charter bus rental service is the superior group transportation mode of travel!
Leave all the transportation logistics in our hands!
Chartered transportation is a great option for any event. School field trips, sports team travel, weddings, family reunions, church outings, corporate events, business meetings, and more. Any time you have a large group of 50 or more passengers, our Indianapolis charter bus services will be the perfect fit group transportation option. A chartered bus rental is for you when you have a large group, a long distance to travel to nearby cities, and you need space for luggage and comfy leather seats so you can have a tranquil journey.
Choose us for top-of-the-line charter bus rentals in Indianapolis!
There are many other charter bus companies in the Indianapolis area, but none can compete with us regarding a professional and seamless transportation service. We have the largest fleet of charter bus rentals in Indianapolis for group transportation, and, reliant on the group's size, we can provide you with any of our different options, such as coach buses, shuttle buses, sprinter vans, and mini buses. Not only do we have motor coach, charter, shuttle bus rental and modern minibus rentals options, but we also provide limousine and party bus rental in Indianapolis. If you have a big day with a celebration coming up, these last limousines and party buses are perfect for you. This is because we have the most elegant and stylized limos and party buses that will improve your big day. No matter which mode of transportation suits your needs, rest assured we have the best Indianapolis charter bus, shuttle bus, limousine, and party bus rental prices.
Our Indy Charters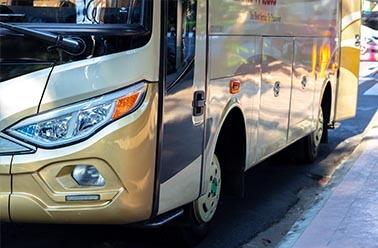 Our motor coaches have forward-facing leather seats, panoramic windows, on board restrooms, overhead luggage compartments, overhead lighting, pull-down TV monitors and DVD players, power outlets, PA systems, air conditioning, Wi-Fi, and ample leg room! Why use public transportation to travel long distances when you can choose our charter bus services? Are you looking for party buses, limos, cars, or shuttle bus services in Indianapolis, Indiana? You can still give us a call because we're here to meet all your group transportation needs!
Great for any group trip in the Indianapolis Metro Area
Sporting events
You want your team to be rested before the big game, and let's face it, traveling can be exhausting. That's why a bus charter rental is such a good choice for sports team! Let your players relax our seamless transportation service and ride in comfort so they can be ready for the big game.
Weddings
Is your wedding a long distance away? Offer charted transportation for your guests! Want to make sure everyone gets home safely after the reception? A shuttle bus rental or party bus rental might be exactly what you need. Call us today and let us know what we can do for you!
Fund raisers
A bus charter is a great option for a fund raiser. With seating for 50 or more passengers and with our affordable price tag, you can plan your perfect fund raising event and offer a comfortable mode of travel to and from your event. Call us today to reserve!
Field Trips
A school bus rental is so outdated. If you need to get your class from school to the destination, our Indianapolis charter bus service is the way to go. We offer safe and reliable transportation the most comfortable buses on the road. It's the best way to travel!
Make the most of your time in Indianapolis thanks to our charter bus rental services
As the largest city in Indiana, Indianapolis has so many exciting things to do that the list is endless. But if you want to seize your stay in this beautiful city to the fullest, the best option is to rent a full size charter bus in Indianapolis so that all of your group transportation needs are covered by the finest. For group travels, this is ideal because it can be challenging to organize all the many different aspects regarding transportation for a big group of people. But here is the best transportation company in Indianapolis, Indiana, to facilitate things for you. Because we want you to have a memorable time, we have selected Indianapolis, IN's must-see sites. Let's start with what this city is known for worldwide: the car races at the Indianapolis Motor Speedway. This is the home of important of big races like the United States Grand Prix, the Indy 500 (celebrated the last Sunday of May), and the Verizon 200 competitions. Also, if you want to know more about the history of this place, you can go to the Indianapolis Motor Speedway Museum, located on the ground of the Speedway. And now that we refer to the Indianapolis museum options, there is a wide variety here, so if you have a school field trip coming up, this will sound appealing to you. First, there is the Children's Museum of Indianapolis, where the kids can learn a lot of new, interesting stuff and enjoy attractions like the dinosaur habitat or the steam locomotive. And for art lovers, there is the Indianapolis Art Center and the Eiteljorg Museum of American Indians and Western Art. And also, despite not being a museum, you must visit the remarkable Indiana State Soldiers and Sailors Monument, an important place for the city's history. Or, in case you prefer to spend time in nature surrounded by a natural environment, there is the Indianapolis Zoo, and the Botanical Garden called the Garfield Park Conservatory. And if you are here in July, you can go to the Indiana State Fair or the Broad Ripple Fair, where you will have a great time. And finally, sporting fans are included because this city is the home of the incredible American football team, the Indianapolis Colts, which play at the Lucas Oil Stadium, and the NBA team, the Indiana Pacers, which play at the Gainbridge Fieldhouse. Anyways, you can count on our charter bus services (which are much better than the regular school buses) to take you and your group to a sporting event like a Pacers game or any of the places we have listed. The bus driver that will accompany you know all the best routes in Indianapolis so that you will arrive on time at your destination.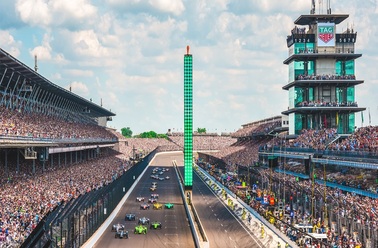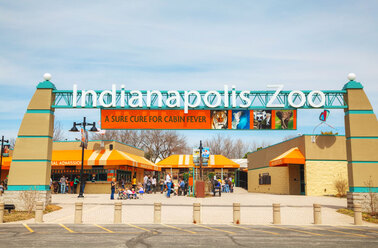 Call today to reserve!
Are you ready to hit the road on a comfortable Indianapolis bus? Give us a call to book with anticipation one of our charter buses! Our reservation team is available 24 7 to best serve you. Customer satisfaction is our number one priority. Let us know what type of transportation services you're interested in, the date and time of your event, your travel plans, and how many passengers you'll have. Depending on your group size and specific needs, you can have different bus options: coach buses are perfect for larger groups, and minibusses, sprinter vans, and shuttle bus rentals in Indianapolis are more suitable for a small group. Our live support team will help you with travel planning and finding the best vehicle among our largest fleet, whether a charter, coach, shuttle bus, or mini bus rental, at an affordable price. We can't wait to hear from you and provide you with a free quote, and when you see we have the most affordable rates in Indianapolis, Indiana, you will decide for us!
Return Home