Indy Weddings
Indianapolis Wedding Transportation
When it comes to a once-in-a-lifetime occasion like your wedding, you shouldn't settle for less than the best; that's why you should call Indianapolis Party Bus because we have top-notch wedding limos and party buses in Indy. Our luxurious fleet comprises the most beautiful antique limousines and party buses, each one custom crafted for us, ideal for wedding transportation! Whether you're planning an intimate affair, a huge wedding venue with hundreds of guests, or the most elegant nuptials imaginable, we have a limousine or limo bus for you!
Indianapolis wedding day transportation
We pride ourselves on providing reliable limo service to brides and grooms in the Indianapolis area, making their wedding day a lasting memory. Our professional drivers are always on time, and our elegant vehicles are always clean and in pristine condition. We know this day's importance to you, and we won't disappoint you with our wedding transportation services! Indianapolis Party Bus is a company you can trust to provide professional and reliable wedding day transportation worthy of your big day.
Customize your limo bus or limo rental for your wedding day
We're here to make your dreams come true with our first-rate Indianapolis wedding transportation service. What is it that you envision for your wedding day? A limo for the bride and bridesmaids and a second limo for the groom and groomsmen? A spacious limo bus or Indy trolley for the entire bridal party? A shuttle bus for your guests at the reception and a classic touch limousine for the bride and the groom? Whatever your transportation needs are, our Indianapolis wedding transportation will make it happen. We're more than happy to tailor our luxury wedding transportation services to suit your needs. Just let us know what you're looking for, and we'll accommodate you!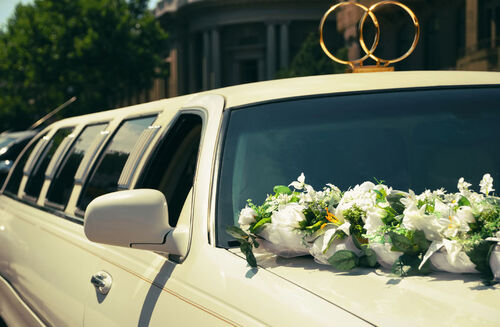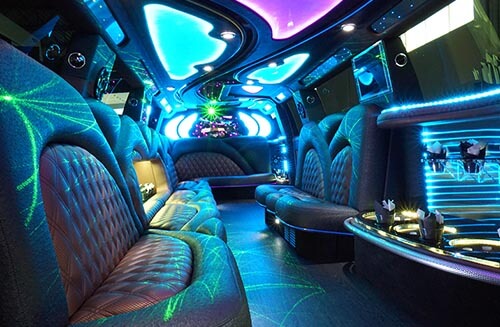 Making your wedding day perfect
Indianapolis Party Bus is well-known for providing the finest wedding transportation in Indianapolis, perfect from your rehearsal dinner to your wedding day. We'll make sure the transportation on your big day goes exactly as planned! Once you let us know your special day schedule, we'll take care of the rest. We're happy to pick you up at home or your hotel or wherever you'll be! We'll take you to your ceremony, photo locations, reception venue, and wherever else you need to go. Our professional chauffeurs will arrive on time and always wear the appropriate attire, and at the end of the day, they will take you home safely. And they will take you to your wedding venue on a classic touch limousine or limo bus rental so smoothly that you will arrive there relaxed and ready to have a memorable wedding day.
Limos for any budget for your big day
Indianapolis Party Bus always has the most affordable limousine, Indy trolley, and party bus rentals, so rest assured our wedding limo services are the best option for special events in the Indianapolis area in relation to the quality price. We know that no matter if you're planning a wedding party on a tight budget or with unlimited funds, you don't want to spend more than you have to! We also know you want to get your money's worth when paying for an Indianapolis wedding transportation service. We're the best of both worlds. We keep our prices low without sacrificing quality. You won't find better limo prices in Indy. In addition to limos and limo buses, we also offer coach buses, luxury sedans, antique limousines, Indy trolley rentals, and several other options. No matter your final decision for your special day in Indianapolis, any of our luxury vehicles will meet your wedding transportation needs!
Book your wedding transportation
Are you interested in getting a free quote, or are you ready to reserve your Indianapolis wedding limo service? We're happy to help. Our agents are available 24 hours per day to assist you and help you with the wedding planning regarding the transportation logistics. Let us know the date of your wedding, the time you'd like limousine service, your schedule for the day, how many passengers you'll have, and what style of vehicle you're looking for, and we will find you the perfect fit for your wishes. Also, let us know if you're looking to book an additional vehicle to provide shuttle services to your guests. We'll find you the perfect ride for your special day at a price you'll love!
Return Home